If your organization has Single Sign-On Integration included in your agreement or if you are interested in adding it, please contact your Customer Success Manager (CSM) and NovoEd Support to begin the process.
If your organization has its own SSO procedure that requires documentation to be completed upfront, please provide that information to your CSM.
Overview of Process: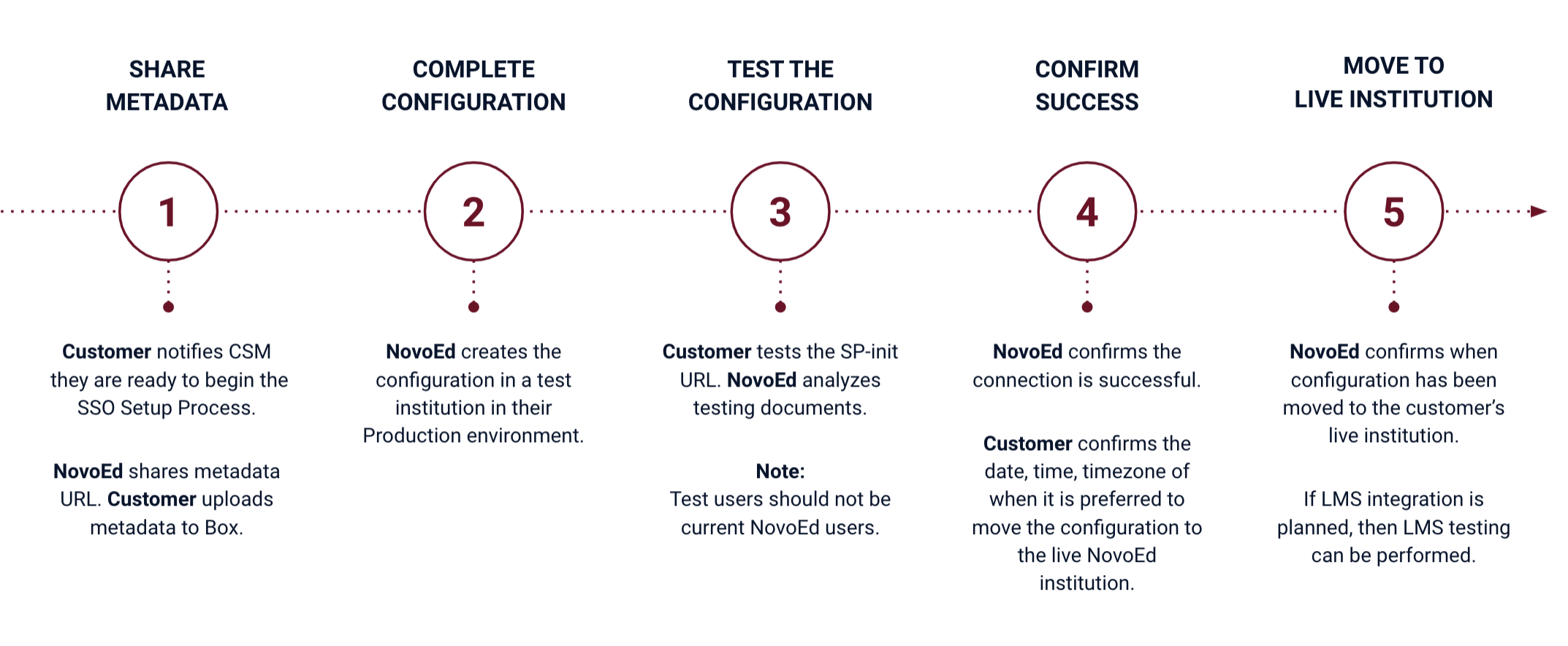 CONFIGURATION REQUIREMENTS
Note that to configure SSO, NovoEd Support will need the following metadata to be configured:
Entity ID:
Target URL for Login to the IdP:
Target URL for Logout from IdP:
IdP Certificate:
Attribute Claim for First Name:
Attribute Claim for Last Name:
Attribute Claim for Email Address:
Attribute Claim for External/Unique ID:
This is optional but strongly recommended. If email addresses change, it is recommended to send a unique ID to avoid the creation of multiple accounts for the same user. See the article "External IDs" for more information.
Attributes Claims for Org Profile Fields:
This is optional. See the article "Organization-Level User Profiles" for more information.
If you plan to integrate NovoEd with your LMS, an Org Profile Field containing LMS usernames will need to be set up. This can be populated through SSO and/or through CSV upload.
PHASE 1: SHARE METADATA
Notify your CSM and NovoEd Support [hello@novoed.com] that you wish to initiate the SSO process.
Please include the following information:

Your IT Team's SSO Contact(s)

Your identity provider and version (SAML 2.0 only)

Confirm whether or not you plan to integrate courses into an LMS

Any upfront SSO documentation required by your organization

Timeline of implementation

Confirm if your process includes testing in your identity provider's non-Production and Production environments.

Any documentation that needs to be completed by NovoEd

List of email domains required to enter your NovoEd institution/subdomain with SSO.


NovoEd Support will share its metadata URL with you.


Your team will share its metadata with NovoEd Support.
A link to a secure upload will be provided to you. Please upload an XML, Metadata link, or TXT document containing the configuration requirements

PHASE 2: COMPLETE CONFIGURATION
NovoEd Support sets up the SSO configuration in a test NovoEd institution in NovoEd's Production environment.
The configuration is set up in a test NovoEd institution, so there is no impact on existing users in your institution. Additionally, NovoEd's metadata will not change during the SSO Set Up Process.
PHASE 3: TEST THE CONFIGURATION

NovoEd provides the SP-init URL and testing instructions to the customer.
Test users should not be existing NovoEd users. If you are an existing NovoEd user, please inform NovoEd Support to delete your account.
Your team will test the configuration and provide the results to NovoEd Support.


Please view our

SSO Testing Directions

page for more information.

NovoEd Support analyzes results and confirms if the SSO configuration is successful
If the testing results do not indicate success, NovoEd Support will help you troubleshoot. A call may need to be scheduled.
PHASE 4: SUCCESSFUL CONFIGURATION
After NovoEd Support has confirmed a successful configuration, they will ask you to identify a day and time when you want the SSO configuration to be moved to your institution.
If your institution has existing users, you may want to schedule the move to a date/time when most users are not going to be using the NovoEd platform.
If the process includes testing in your identity provider's non-Production and Production environments, phases 1-4 will be repeated.
PHASE 5: SUCCESSFUL CONFIGURATION
NovoEd Support schedules the SSO configuration move and confirms when it is connected to the customer's NovoEd institution.
Hooray! Your SSO configuration is ready for use! You can now select a relevant learner registration option in the Course Basics section of your courses.
Multiple SSO Configurations
NovoEd additionally offers the option for multiple SSO configurations to be set up within the same institution. This would allow users coming from different identity providers to sign in to the same institution.
For more information, please contact your CSM. You may also email hello@novoed.com and our Support Team will be happy to help!
Note: If your organization is interested in setting up multiple SSO configurations for the same institution, please be sure to instruct learners to select the appropriate identity provider.